ARB CKMTA12 Maximum Output Twin Motor On-Board Universal Air Compressor Kit 12V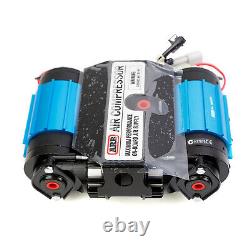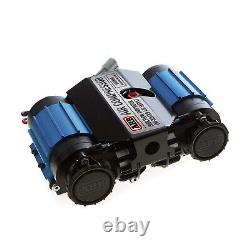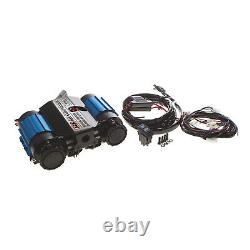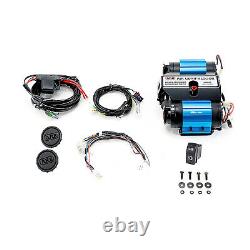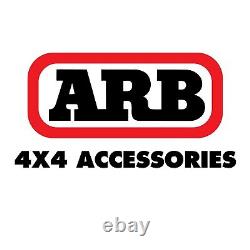 ARB CKMTA12 Maximum Output Twin Motor On-Board Universal Air Compressor Kit 12V. Providing optimum power, the ARB twin motor design delivers class-leading air flow for fast inflation purposes. Constructed of lightweight, high-strength engineering-grade materials, it incorporates quality components for quiet operation and extended durability. The twin motors incorporate internal thermal protection against extreme temperature damage while a heavy-duty in-line maxi fuse for each motor provides professional circuit protection. Designed for inflating tires and air locker activation when used in conjunction with optional accessories.
Suitable for many air tools when used in conjunction with a 4L air tank (optional with on-board models). Sealed for moisture and dust resistance. Hard anodized cylinder bores for reduced friction.
Teflon impregnated carbon fiber piston seals for maximum trouble free life. Anodized mounting bracket dissipates heat. Integrated pressure switch, relays and IP55 (waterproof/dustproof) brushless fan cools electronics, motors and cylinder heads.
Fully assembled and tested air compressor (12V or 24V). Complete wiring loom w/ Air Locker solenoid plug-in terminals. Automotive OEM quality compressor isolating switch. 2 x relocatable splash resistant air filters with washable high-flow sintered bronze filter cartridges. Comprehensive photo illustrated installation guide.
Constructed primarily of light weight, high strength, engineering grade materials, including military and aerospace standard components. Pressure switch controlled air manifold system regulates pressure between 9.3Bar [135PSI] and 10.3Bar [150PSI] suited to air tools and all ARB Air Locker equipped vehicles. Highest air flow rate of any 12V compressor of its size on the market at 174LPM [6.16CFM].
High efficiency design consumes only 56 Amps at maximum air flow. Built with sealed components for moisture and dust resistance. Hard-anodized cylinder bores and PTFE (Teflon) impregnated carbon fiber piston seals for reduced friction and maximum trouble free life. Ducted IP55 sealed brushless DC cooling fan and anodized motor mounting brackets effectively dissipate heat from the motors, heads and electronics allowing for a 100% duty cycle (under room temperature conditions). Anti-vibration / sound deadening is integrated into the mount.
Relocatable splash resistant air filter assemblies for cleaner, cooler air supply and versatile waterproof air intake positioning. High density and high flow washable sintered bronze air filter elements.
Full wiring loom included for simplified installation and easy plug-in connectivity to Air Locker control solenoids. (Note: Air Locker Manifold Kit #171503 required to mount solenoids). Equipped with dual heavy duty Maxi-Fuses for professional in-line circuit protection and true circuit redundancy in case of a fault.
Motors are water sealed, 100% ball bearing equipped i. No bushings used, and feature a unique linear brush pre-load system for extra long life, low heat and quiet operation throughout the life of the unit. Motors are internally thermal protected against extreme temperature damage. Compressor pistons are equipped with a heavy duty European made cylindrical roller bearing.
Sealed illuminated automotive grade dash switch included. Fully serviceable and all replacement parts available. EMF suppressed for use in proximity to sensitive electronic equipment. Engineered, built, and individually dyno-tested in Australia from local and imported components.