BOSS PX06 Combo Kit 9 Litre Tank & Air Compressor 12V 275W 100% Duty Cycle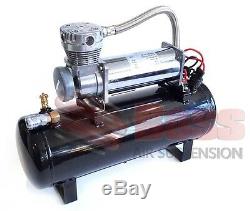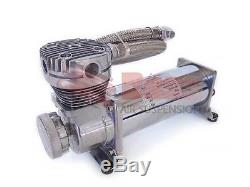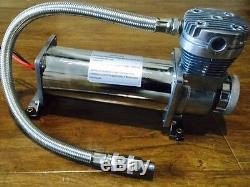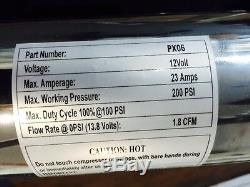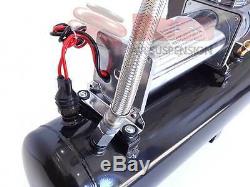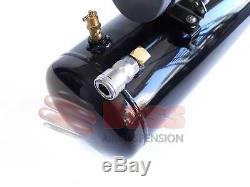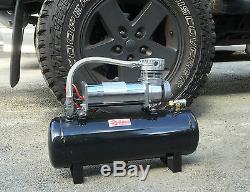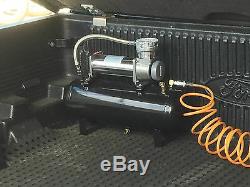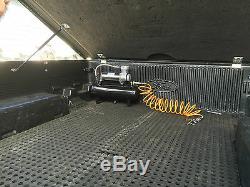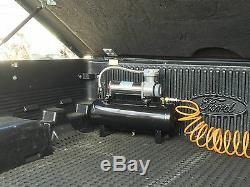 This is a brand new PX06 Boss Combo Kit by BOSS. Here's what you get.. 9 Litre (2.5 Gal) Tank with 5 ports.
Braided Line - wont go soft and blow off when hot. Check Valve - prevents air escaping back through compressor when off.
Pressure Switch 110-150 psi - Auto cuts out at 150 psi and turns back on at 110 psi. 200 PSI blow off valve. This combo unit fits neatly in the back of a ute and hard lids can still be shut. Size H 380mm x W 170mm x L 480mm and weighs in at. Can also sit in the boot of a sedan up behind the back seats.
So it's small enough to be practical and big enough to do a great job. Let's face it, 9.5 Litres at 150 psi is a lot of air and can readily run air tools or pump up tyres fast. This is ideal for in car operation of air bags.
80% of the gear you need is all here pre-assembled and makes for a very easy instal project. The pressure switch turns the compressor on when the pressure is low and it turns the compressor off when it reaches the 135 psi. The PX06 belts along at pumping tyres and filling tanks at easily twice the speed of the biggest ARB unit and we challenge any critic to prove otherwise. In fact our PX06 runs faster at tyre pressures than our big PX07.
So when it comes to pumping tyres our PX06 is unparalleled. The PX07 is faster at high pressures.
Maybe compare the PX06 to a fast V6 commodore (pumping tyres is like driving on the road) but compare it to a V8 Turbo Diesel (our PX07) it is slower on the road (tyres) but better at pulling loads up steep hills (filling tanks). Rated at 1/3 HP (275 Watts). Happily pumps to 200 psi but safe 100% duty cycle at 100 psi.
100% Duty Cycle (which means it just keeps going rather than cutting out). No Oil - means it can be mount. Ed upside down or on its side. Air Filter maybe cleaned and mounted in a different location like away from water.
Re-buildable which means we stock servicable parts like pistons, rings, head and brushes so you can keep this going inexpensively for years to come. The dimensions of our PX06 are.
170mm tall to top of cylinder head. 300mm long with filter attached. Mounting bolt holes are 225mm x 85mm footprint. Also it is important to get good current and volts to your compressor.
Plentiful volts means your compressor will long faster and cooler and live longer too. We are a specialist air systems supplier to the automotive industry. Since the very start of BOSS we have been delivering BOSS solutions to the 4WDer, Mining and commercial applications, fishing and marine and the air suspension industries. We just do BOSS stuff so we aren't distracted and we stay focussed on delivering quality air solutions at great prices. If you need to ask someone about whether this item is right for you or if you have any questions at all then please just call me on.
All of our gear may be picked up from our official BOSS development center in Labrador on the Gold Coast or we can send anywhere in Aus (or with express options) or Worldwide at affordable rates. If you have an ABN we can help you with trade prices.
Almost every air bag application we do is bolt in. No welding or cutting or drilling. We make that a mandatory requirement when we develop a new kit. And we will make sure we do better. We wont be beaten on price, quality or service.
Happy customers is our key to success. People often ask why or how are we so much cheaper than Firestone.
So our costs are way down and if we charged Firestone prices we would be ripping you off. Our bags are not permanently attached to the mounting brackets.
That means you can replace a bag if you have to without the costly new brackets as well. No need for qualified installers, anyone can fit our gear and its easy.
We talk with farmers, tradies and travelers every day about their load carrying and air system needs and we take pride in making our mark on Australia. We have been doing air suspension for over 15 years and have over 20,000 Aussie customers out there running BOSS air suspension products. Over the years we make improvements where we can and so by now we have become a market leader recognised for having the best product at the best prices. BOSS also have a development center in Canada looking after our Canadian and American interests. We have a lot of exciting vehicle applications in the USA that eventually filter through to Australia and other parts of the world and so we have a very extensive range which includes all the American pick ups as well as the old classic cars like Chev and Buick.
At BOSS we dont copy others - To begin with we dont trust the others to get it right. But more importantly the others dont have anything to copy. BOSS are the first to get hold of new vehicle models and get kits to market having tried and tested them, fully getting to understand the vehicle and the engineering required. As such BOSS have the widest range of applications for Australian and USA markets and we are onto all the new models even before they are released.
BOSS have the most comprehensively wide range of accessories as well. All of our air compressors can be rebuilt and we stock those parts. We have tanks, pressure switches, water filters, braided lines, digital pressure gauges, everything for in car operation of your bags, the list goes on and on.
BOSS air bags are manufactured in our BOSS factory with our own machines to our own exacting standards and specifications. We strongly believe it's the only way of maintaining strict control over the bags. Here are some interesting facts... It takes over 20 minutes for each bag to go from the raw un-cured blended rubber to a cured air bag.
1 machine can only make 1 bag at a time. Its not just the thickness of the rubber that gives the bag its strength but also the angle of the reinforcing cords and design of the woven beads. The proprietary ballistic material used for the woven reinforcing on the airbag wall, along with the specific spacing and angle of the weave, is what gives our air bag its unique strength.
The bead ring ends of the bag are constructed of 4 Hi-tensile cords at each end, ensuring that the top and bottom hold their shape and cant be pulled away from the Aluminium clamping ring. The center of the air bag (the part of the bag with the most stress) is constructed using 9 strands of Hi-Tensile steel to form an indestructible center support. Our competitors's bags have less than half these strands. The BOSS airbag machines are operated at over 400psi while the curing process is taking place with very high heat.
There's an internal bladder pushing the airbag case into the mould ensuring consistency throughout the airbag wall. Each air bag machine has over 50 tons of clamping pressure on the mold during curing. Effectively these are desperately over engineered as there's no way you could ever exert over 50t and 400 psi on a bag in your vehicle. The factory tests selected bags to destruction within a controlled chamber to ensure continued bag quality and identify possible ways to constantly improve the design and technique.
We have just recently released the exciting new EX-2 Bags. They have a 5 year leak free guarantee. Tooling was modified to provide for a heavier and wider rim width. BEWARE: Some other brands use crimped-on end caps. Crimped or Banded air bags are prone to popping the end caps out at anything over 100psi and often simply pull the end caps out when the bag is fully extended.
BOSS air bags are undeniably the strongest in the automotive industry and exceed any other air bag brands by nearly double. We pride ourselves in looking after everyone. Even if you have had your gear for years we will still look after you because who knows, our next customer could be your friend you refer to us. Ver 100 different air bag leaf and coil load assist kits. BOSS does coil replacements kits. BOSS does full air suspension systems. BOSS does package deals with different in cab and compressor options. And of course, BOSS does air suspension for Harley Davidson bikes... So you see BOSS is 100% focussed and committed to delivering all the best gear. There is a selection of our other popular accessories and add ons.
Like we said, no one else offers such a huge list of optional bits. The item "BOSS PX06 Combo Kit 9 Litre Tank & Air Compressor 12V 275W 100% Duty Cycle" is in sale since Tuesday, August 18, 2015. This item is in the category "Vehicle Parts & Accessories\Automotive Tools & Supplies\Air Compressors".
The seller is "airbag_suspension" and is located in Moreton, QLD. This item can be shipped worldwide.
Brand: BOSS
Manufacturer Part Number: PX06