For Craftsman Porter Cable Black Decker DeVilbiss Air Compressor KK-4835 ZAC0032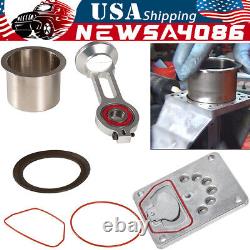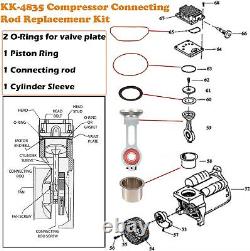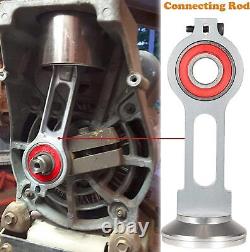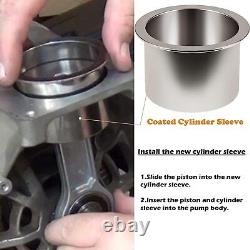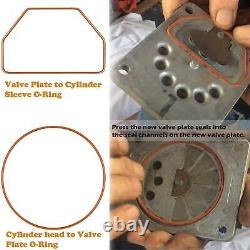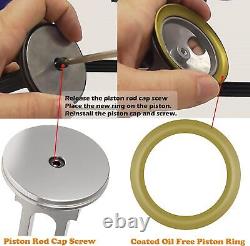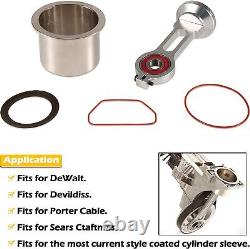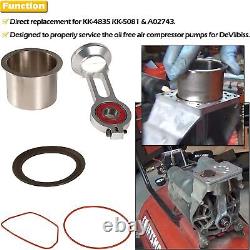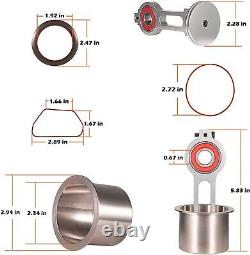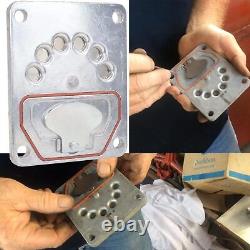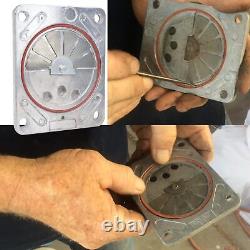 For Craftsman Porter Cable Black Decker DeVilbiss Air Compressor KK-4835 ZAC0032. KK-4835 Connecting Rod Piston Kit & ZAC0032 Valve Plate Kit Fit For Craftsman, Porter Cable, Black and Decker, DeVilbiss Air Compressor. Perfectly Compatible with Craftsman Devildiss Dewalt and Porter Cable.
2-3/8 Cylinder Bore for oil-less single cylinder units;Heavy Duty Replacement Compressor Connecting Rod Kit Replace KK-48355, KK-5081 & A02743and made from solid 6061 Aluminum on a CNC lathe and mill machine. This Kit Replaces Parts Numbers: 889124, 889125, 891125, AC_0788, D25009 & D25837. DAC-280 Valve Plate Kit Fit For Craftsman, Porter Cable, Black and Decker, DeVilbiss Air Compressor.
Replace # Z-AC-0032 ZAC0032 ;Replace # DAC-280, AC-0032 ;Replace O-ring gaskets SSG-8156 & ACG-45 ;This Valve Plate is for select 2-3/8 Cylinder Bore Units. 5Z598C /93-116-SW /EXFB4025SV/EXFBC6025 /EXFC5020 /F5020 FB5020 /FB5530 /FTV560V /FTV660V /HF412-WK /HF5030V HFA5030V /HFB412 /HFB4512 /HFBC4512 /IR100E8AD /IRF18 IRF412 /IRFB4512 /IRFB5020 /IRFB5021-WK /IRFBC4512 /IRFC18 IRFC5020 /PAFB412 /PAFB4512 /PAFB5020 /PAFBC6025VP /PAFC430 Compressor Fit For Porter Cable Models. Fit For Black and Decker Models. 919152813,919152830,919152912,919152922,919152932 919152940,919153451,919153461,919154450,919155613 919163450,919163550,919164150,919164180,919164200 919164450,919165000,919165010,919165020,919165030 919165050,919165060,919165070,919165080,919165090 919165110,919165120,919165130,919165140,919165150 919165170,919165180,919165190,919165200,919165220 919165221,919165230,919165231,919165250,919165300 919165310,919165330,919165400,919165500,919165510 919165511,919165520,919165521,919165530,919165540 919165570,919165580,919165600,919165610,919165611 919165612,919165613,919166330,919166600,919166700 919166701,919167200,919167210,919167211,919167220 919167221,919167280,919167300,919167301919167310 919167311,919167312,919167330,919167340,919167341 919167342,919167350,919167360,919167361,919167362 919167400,919167450,919167460.
Front Crank Wear Sleeve Installer Kit to OTC 303-761 for Ford Powerstroke 6.0L. Camshaft & Crankshaft Alignment Timing Tool 303-772 for Ford 6.0L/6.4L Engines.
4C3Z-6026-CA Oil Supply Rail End Oil Gallery Plug & Seal For Ford 7.3L Engines. T-0220-39 Master Bushing Driver Tool for Ford Chrysler GM Transmissions Bushing. Oil Rail Ball Tube O-Rings & Nipple Cup Socket + Injector Seal Kit for Ford 6.0L.
6.0 High Pressure Oil Pump IPR Valve Air Test Fitting Tool for Ford 6.0L Diesel. Prothane 6-116 Body Mount Bushings Kit For Ford Explorer Sport Trac 2WD/4WD. Camshaft Holding Tool & Chain Tensioner Set for Ford 3.5L 3.7L 4V Engines. High Pressure Oil Pump HPOP Master Service Kit for Ford 7.3L Navistar T466 T444E. Cam Phaser Crankshaft Position Timing Chain Wedge Lock Tool For Ford 3V 4.6 5.4L.
Fuel Injector Socket Set&Injector Removal Tool 3418 for Ford 6.7L F-350/450/550. 6.7L Front Crankshaft Seal Installer Tool for Ford Super Duty F-450/550,250/350. 11001 Differential Pinion Depth Checker Tool Kit For Ford GM Dana Chrysler. For Ford Diesel Engine 6.0L Powerstroke Fuel Pressure Test Fitting Adapter.
Cam Seal Removal Installation Tool for Dodge, Ford, GM, Honda, Mazda, Nissan, Volvo. Fuel Filter Return Line Repair Connector for Ford 6.7L F-250 F-350 F-450 2011.
Universal Terminal Release Tool for BMW, Mercedes, VW, Jaguar, Toyota, Saab, Ford, Fiat. 303-S455 Water Pump Pulley Service Kit for Ford Escape&Taurus&Mercury Sable. Body Cab Mount Bushings Kit For Ford F150 F250 2WD 4WD Body Cab Mounts 4.4123R.
Body Cab Mount Bushing Set For Ford F-150/F250/F350 2WD& 4WD XLT, XLS XL Lariat. For Ford 7.3L Powerstroke Diesel Crankcase CCV Breather O-Ring Vent Valve Seal.
Mechanical Fuel Pump Eccentric Kit For Ford 385 Series BBF 370 429 460 514 SBF. Powerstroke Diesel Turbo Pedestal O-Ring Seal Gaskets for Ford 94-03 7.3L Diesel. Install Tools Fuel Injector Sleeve for Ford all 2003 - 2010 6.0L / 6.4L Engines.
5002 Dry Type Dual Clutch Transmission Oil Seal Removal Installer for Ford Volvo. Body Mount Bushing Kit KF04050BK for Ford F250 F350 2WD and 4WD Polyurethane. Body Mount Bushing Kit KF04050BK for Ford F250 F350 2WD 4WD Polyurethane 1999-18.
KF04050BK Body Mount Bushing Kit for Ford F250 F350 2WD & 4WD Polyurethane. Oil Filter Wrench for Volkswagen, Mercedes, VW, Audi, Ford, Porsche, Mazda, Sprinters. 303-770 Rear Main Seal Installer Tool Fit Tool for Ford 4.5L, 6.0L, 6.4L F-250.
303-761 Front / Rear Seal Installer Tool Kit for Ford 6.0L Diesel Powerstroke. Cam Timing Alignment Tools Kit for Ford Fiesta Focus Volvo Mazda Duratec Engines.
F5RZ-6A340-B Crankshaft Tool Crank Pulley Bolt for Ford Lincoln Mercury Vehicles. Pinion Flange Holding Tool& Engine Crankshaft Pulley Bolt Tool for Ford Lincoln. 27046 4 Wheel Bearing Locknut Socket 6 Lugs for GM Ford Dodge w/ Dana 70 Axles.