Milwaukee 2475-21XC M12 Cordless Portable Car Tire Inflator Air Compressor Kit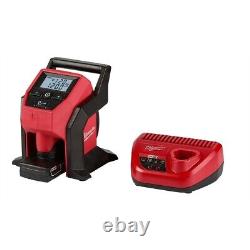 Up To 5X Speed Of Fill on Car and Light Truck Tires Compared To Corded and Cordless Units. First Cordless Inflator That Can Fill A Light Truck Tire From "0 To Full" On a Single Battery.
Top Of Standard Car Tires In Under 1 Minute. Inflates Car, LT Truck, & Compact Equipment Tires.
RedLink IntelligenceT With TrueFillT Auto Shutoff Technology. Automatic Shutoff at Desired Pressure.
Advanced Electronics To Protect From Over-Temp and Over-Fill. Connect Easily and Reliably to Tires With an All Brass Chuck.
Anti-Vibration Stand For No Movement While Filling. Reinforced Cage For Drops and Impact Protection.
Easily Store 26 Hose and Attachments: Includes Ball Inflation Needle, Inflatable Nozzle & Presta Chuck. Includes XC4 Amp battery and charger.