Schulz 75 Cfm Refrigerated Compressed Air Compressor Dryer 115v, Complete Kit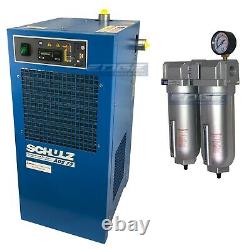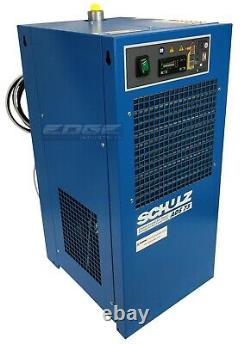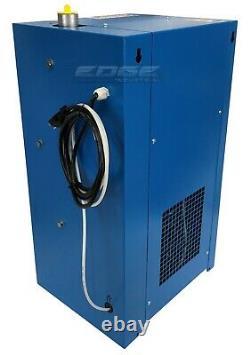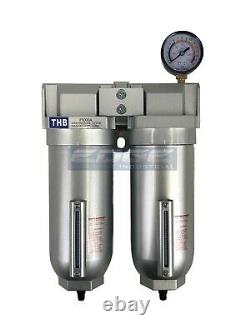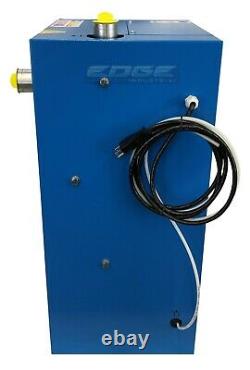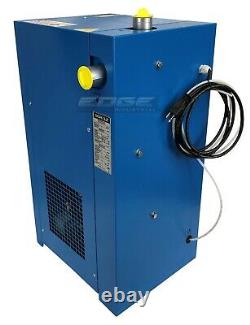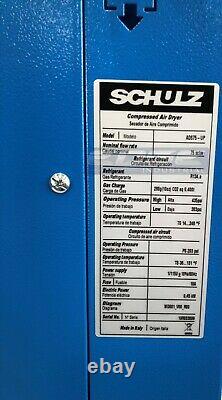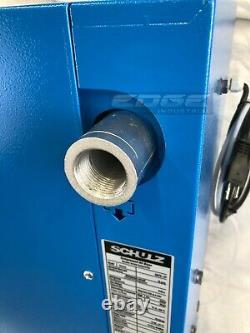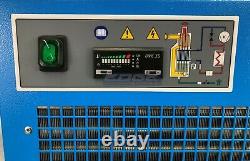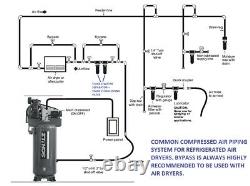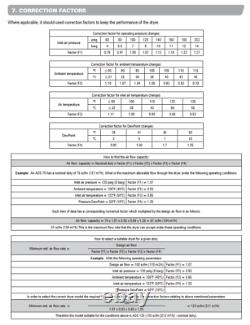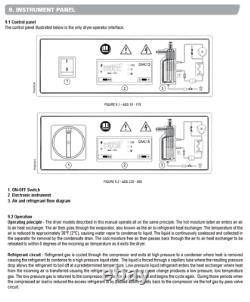 BRAND NEW 75 CFM SCHULZ NON CYCLING REFRIGERATED COMPRESSED AIR DRYER FOR AIR COMPRESSORS. WHAT IS A NON CYCLING REFRIGERATED AIR DRYER AND WHY DO I NEED ONE?
COMPRESSED AIR CONTAINS NATURALLY OCCURRING MOISTURE, WHICH CAN NEGATIVELY AFFECT COMPRESSED AIR APPLICATIONS THAT REQUIRE MOISTURE FREE AIR. DRYERS ARE A COMMON SOLUTION FOR REMOVING SUCH MOISTURE. ONE OF THE MOST POPULAR OPTIONS ARE REFRIGERATED AIR DRYERS, DUE TO ITS ABILITY TO REACH AN ACCEPTABLE DEW POINT IN. NON-CYCLING REFRIGERATED DRYERS, THE REFRIGERANT ACTUALLY CIRCULATES CONTINUOUSLY THROUGHOUT THE SYSTEM.
BECAUSE BOTH THE FLOW OF COMPRESSED AIR AND AMBIENT TEMPERATURES VARY, A HOT GAS BYPASS VALVE IS USED TO REGULATE THE TEMPERATURE OF THE REFRIGERANT WHILE PREVENTING FREEZING WITHIN THE SYSTEM. PLEASE NOTE: IT IS VITAL THAT LIQUID WATER AND OIL ARE REMOVED FROM YOUR COMPRESSED AIR LINES BEFORE ENTERING ANY REFRIGERATED AIR DRYER. LIQUID WATER AND/OR OIL FROM YOUR COMPRESSOR CAN DAMAGE THE INTERIOR COMPONENTS OF THE DRYER RESULTING IN DRYER NON-PERFORMANCE OR FAILURE.
THIS IS WHY WE PROVIDE YOU WITH A STAGE 1 WATER SEPARATOR WITH AUTOMATIC FLOAT DRAIN IN ADDITION TO A STAGE 2 COALESCING FILTER / OIL REMOVING FILTER. PLEASE SEE OUR ATTACHED PICS. THE STAGE 1 WATER SEPARATOR HAS A 5 MICRON ELEMENT THAT WILL REMOVE 95% OF THE MOISTURE WATER FROM YOUR COMPRESSED AIR LINES. THE UNIT COMES WITH A 11oz METAL BOWL WITH VISIBLE SIGHT GLASS SO YOU CAN VIEW MOISTURE LEVELS AT A GLANCE. THE STAGE 1 WATER SEPARATOR ALSO COMES EQUIPPED WITH INTERNAL FLOAT DRAIN THAT AUTOMATICALLY RELEASES MOISTURE WATER FROM THE BOWL.
THE STAGE 2 COALESCING FILTER, ALSO KNOWN AS AN OIL REMOVING FILTER, REMOVES THE REST OF THE MOISTURE VAPOR THAT MADE ITS WAY THROUGH THE STAGE 1 WATER SEPARATOR, IN ADDITION TO ANY RESIDUAL OIL FROM YOUR COMPRESSED AIR LINES. THIS STAGE 2 UNIT ALSO COMES WITH 11oz METAL BOWL AND INTERNAL FLOAT DRAIN, HOWEVER ITS VERY UNLIKELY THAT ANY MOISTURE BUILD UP WILL OCCUR IN THIS STAGE 2 BOWL. THE 1 FEMALE NPT INLET / OUTLET WATER SEPARATOR + COALESCING FILTER COME BRACKETED TOGETHER AND ARE EQUIPPED WITH WALL MOUNTING CAPABILITIES. WATER SEPARATION AND MOISTURE REMOVAL INFO: THE MOST EFFECTIVE WAY TO SEPARATE MOISTURE WATER FROM YOUR COMPRESSED AIR IN YOUR COMPRESSED AIR LINES, STARTS WITH THE COMPRESSED AIR LINES THEMSELVES. WHEN YOU ARE SETTING UP OR INSTALLING YOUR PIPING, YOU ALWAYS WANT TO FORCE YOUR COMPRESSED AIR TO CLIMB VERTICALLY, WHILE POOLING LIQUID WATER IS DRIVEN DOWNWARDS BY GRAVITY.
USUALLY INTO SOME SORT OF DRAIN OR BALL VALVE THAT IS RELEASED PERIODICALLY. BY DOING THIS, YOU NOT ONLY PROTECT THE REFRIGERATED AIR DRYER AND YOUR PNEUMATIC TOOLS AND SPRAYERS, YOU ALSO EXTEND THE LIFE OF YOUR STAGE 1 AND STAGE 2 FILTRATION UNITS. IF YOU VISIT GOOGLE IMAGES AND SEARCH, "PROPER COMPRESSED AIR LINE INSTALLATION", YOU WILL SEE A WIDE VARIETY OF DIFFERENT INSTALLATION TYPES THAT YOU CAN EMULATE ON YOUR OWN SET UP. YOU CAN ALSO VIEW OUR ATTACHED PICS FOR OUR RECOMMENDED COMPRESSED AIR LINE SET UP WITH FILTERS AND BY PASS. DRYER SIZING: WHEN SIZING A DRYER, ITS IMPORTANT TO UNDERSTAND HOW TEMPERATURE AND PRESSURE AFFECT WATER CONTENT IN AIR. THE WATER VAPOR CONTENT OF AIR VARIES DIRECTLY WITH TEMPERATURE. IF TEMPERATURE INCREASES, THE AIRS ABILITY TO HOLD WATER INCREASES. AS A RULE OF THUMB, EVERY 20° F RISE IN INLET AIR TEMPERATURE MAY DOUBLE THE WATER LOAD ON A DRYER. THE WATER VAPOR CONTENT OF AIR VARIES INVERSELY WITH PRESSUREIF PRESSURE INCREASES, IT SQUEEZES MOISTURE OUT. BECAUSE OF THESE TWO RELATIONSHIPS, COMPRESSED AIR DRYERS HAVE CORRECTION FACTORS (PLEASE SEE OUR ATTACHED PICS FOR THE SCHULZ CORRECTION FACTORS) TO HELP DETERMINE HOW MUCH AIR A DRYER CAN ACTUALLY HANDLE FOR SPECIFIC AMBIENT CONDITIONS. IN SELECTING WHICH CORRECTION FACTORS TO USE, MAKE SURE YOU GO WITH THE WORST CASE SCENARIO. THIS IS USUALLY DURING THE HOTTER, MORE HUMID SUMMER MONTHS. YOU CAN ALSO FIND A VAST AMOUNT OF INFORMATION REGARDING REFRIGERATED AIR DRYER CALCULATORS ONLINE. ADS-75 NON-CYCLING REFRIGERATED AIR DRYER INFORMATION.
EACH UNIT COMES COMPLETE WITH VERY DESCRIPTIVE USERS / OPERATION MANUAL. ITS RECOMMENDED THE USERS MANUAL STAYS IN THE PRESENCE OF THE OPERATOR. 200 PSI MAX INPUT PRESSURE TO THE INLET SIDE OF THE DRYER.
THIS 75 CFM DRYER HAS A 1 FEMALE NPT INLET AND OUTLET. THE STAGE 1 & 2 FILTERS HAVE A MAX INPUT AND OUTPUT PRESSURE OF 175 PSI. PLEASE MAKE SURE YOUR COMPRESSOR OUTPUT PRESSURE IS BELOW 175 PSI SO YOU DO NOT DAMAGE THE FILTERS. THE INLET AND OUTLET 1 FEMALE NPT CONNECTIONS ON THE DRYER ARE MACHINED ALUMINUM. WE PROVIDE YOU WITH HIGH QUALITY BRASS MACHINED HEX BUSHINGS OR UNIONS FOR YOU TO USE ON THE INLET AND OUTLET PORTION OF THE REFRIGERATED AIR DRYER.
ITS VERY IMPORTANT THAT YOU DO NOT USE COARSE BLACK IRON PIPE OR GALVANIZED FITTINGS ON THE ALUMINUM INLET/OUTLET PORTION OF THE DRYER. THE COARSE THREADS CAN DAMAGE THE ALUMINUM FITTINGS WHICH COULD LEAD TO A LEAK IN THE PIPING. PLEASE REVIEW THE REQUIRED INSTALLATION GUIDELINES BELOW. CFM: 75 CFM AT 100 PSI.
MAX INLET PRESSURE: 200 PSI MAX DRYER (175 PSI MAX INPUT PRESSURE ON STAGE 1 & 2 PRE-FILTERS). DEW POINT: 41 DEGREES FAHRENHEIT AT 100 PSI. AMBIENT TEMPERATURE: 113 DEGREES FAHRENHEIT MAX 34 DEGREES FAHRENHEIT MINIMUM.
CONNECTION: 1 FEMALE NPT INLET AND OUTLET. ALUMINUM FITTINGS, WE PROVIDE YOU WITH HIGH QUALITY MACHINED BRASS FITTINGS TO USE ON THE INLET AND OUTLET CONNECTION. PLEASE VIEW ATTACHED CORRECTION FACTORS IN OUR ATTACHED PICS. WIRE SIZE REQUIRED: 10 GAUGE. DIMENSIONS IN INCHES: (HEIGHT 29.2") (WIDTH 13.9") (LENGTH/DEPTH 16.9).
SINCE COMPRESSED AIR PIPING INSTALLATION SETS UPS VARY IN LENGTH AND SIZE, WE DO NOT PROVIDE ANY OF THE COMPRESSED AIR TUBING YOU WILL NEED IN ORDER TO PLUMB THIS SYSTEM TOGETHER. PLEASE VISIT OUR STORE FOR A VARIETY OF COMPRESSED AIR TUBING OPTIONS. NEVER USE PVC FOR YOUR COMPRESSED AIR LINE INSTALLATIONS. IF PVC RUPTURES, IT CAN SEND DANGEROUS SHARDS AT TREMENDOUS VELOCITIES THROUGHOUT YOUR WORK SPACE CAUSING SERIOUS INJURY. INSTALLATION REQUIREMENTS FOR ADS SERIES REFRIGERATED AIR DRYERS. LOCATION: THE PRODUCT MUST BE INSTALLED IN AN ENGINE ROOM ACCORDING TO NR13 OF MTB, IN A ROOFED AREA THAT IS WELL VENTILATED, FREE FROM DUST, TOXIC GASES, HUMIDITY OR POLLUTION OF ANY KIND. IN ORDER TO REDUCE THE EXCESS OF NOISE, A SOUNDPROOFING PROJECT MUST BE TAKEN INTO CONSIDERATION. FAILURE TO INSTALL DRYER IN THE PROPER AMBIENT CONDITIONS WILL AFFECT THE DRYERS ABILITY TO CONDENSE REFRIGERANT GAS. THIS CAN CAUSE HIGHER LOADS ON THE COMPRESSOR, LOSS OF DRYER EFFICIENCY AND PERFORMANCE, OVERHEATED CONDENSER FAN MOTORS, ELECTRICAL COMPONENT FAILURE AND DRYER FAILURE DUE TO THE FOLLOWING: COMPRESSOR LOSS, FAN MOTOR FAILURE AND ELECTRICAL COMPONENT FAILURE. IF THE ROOM TEMPERATURE IS OVER THAT, IT IS NECESSARY TO USE THE FLOW CORRECTION TABLE.
THIS APPLIES FACTORS WHICH HELP TO FIND OUT THE CORRECTED DISCHARGE THE DRYER IS ABLE TO PROCESS. THE USE OF EXHAUST FANS IS ALSO RECOMMENDED, COOLING DUCTS, OR OTHER MEANS TO PROVIDE A DECREASE IN TEMPERATURE. IF THE ROOM TEMPERATURE IS NEAR OR LESS THAN 5°C, THE SRS - AIR DRYER IS NOT RECOMMENDED, AS HEATING IS REQUIRED FOR THE MACHINE ROOM AND THE ENTIRE COMPRESSED AIR PIPELINE FOR TEMPERATURES AROUND OR OVER 10°C. THE PRESENCE OF CONTAMINATION AGENTS DUST, FIBERS, ETC. SUSPENDED IN THE AIR CAN CAUSE PREMATURE OBSTRUCTION OF THE CONDENSER.
PLACEMENT: KEEP DRYER AWAY FROM ANY OBSTACLE TO AVOID HARMING THE OPERATION AND AT THE SAME TIME FACILITATING PREVENTIVE MAINTENANCE OF THE ADS - AIR DRYER. DRYERS MODELS ADS 10 150 CAN BE WALL-MOUNTED. DIMENSIONS ON DIMENSIONAL DRAWINGS ARE SHOWN IN USERS MANUAL. THE HANGING MOUNTING INEVITABLY CAUSES THE OBSTRUCTION OF THE VENTILATION GRID POSITIONED ON THE PANEL FACING THE WALL FIXING.
THIS OBSTRUCTION, IN ANY CASE, DOES NOT PREJUDGE THE EFFICIENCY OF THE VENTILATION INSIDE THE DRYER WHICH IS GUARANTEED BY OTHER GRIDS ON THE OTHER PANELS. FOUNDATION: THE PRODUCT MUST BE INSTALLED ON A CONCRETE BASE CAPABLE OF SUPPORTING ITS WEIGHT AND THE FORCES RESULTING FROM ITS OPERATION. IF THE AIR PROCESSED BY THE DRYER IS SUPPLIED BY AN ALTERNATING PISTON COMPRESSOR A TOTAL PIPELINE COURSE OF AT LEAST 26 FEET IS RECOMMENDED BETWEEN THE RESERVOIR AND THE DRYER (OR A COALESCENT PRE-FILTER). THIS LENGTH OF PIPELINE HELPS A GREAT DEAL IN COOLING THE COMPRESSED AIR BEFORE GOING INTO THE DRYER. IT DEPENDS ON THE QUALITY OF THE COMPRESSED AIR TO EVALUATE THE NEED OF INSTALLING ONE OR MORE FILTERS.
THE PURPOSE IS TO AVOID THE ACCUMULATION OF PARTICLES IN THE LINE. We would be more than happy to correct any issue. Regardless if we accidentally sent you the wrong item (which seldom happens) or the customer ordered the wrong part by mistake. WE WILL correct any potential problem. Liability: UPE_Group is a dstributor and as such, has no direct or indirect control over the materials, processes, or quality control procedures used by the manufacturers of the products we resell.
Accordingly, UPE_Group will NOT be held responsible for damages resulting from product defects, or, from mis-applications/improper installations by the customer or end user. It is the purchasers responsibility to determine the suitability of the product for the specific application. If it is deemed defective, UPE_Group shall be held harmless of any and all damages including (but not limited to) physical injury, property damage, water damage or otherwise for any reason.
It is the purchasers responsiblity to determine the suitability of these products for your specific application. Including, but not limited to, using alternative products.
UPE_Group shall be held harmless of any and all damages including but not limited to physical, property, water or otherwise for any reason. Your use of any information or materials on this listing is entirely at your own risk, for which we shall not be liable. By submitting your order, the purchaser acknoledges agreement with the Terms & Conditions as outlined here and our website. The item "SCHULZ 75 CFM REFRIGERATED COMPRESSED AIR COMPRESSOR DRYER 115V, COMPLETE KIT" is in sale since Wednesday, July 3, 2019.
This item is in the category "Business & Industrial\Hydraulics, Pneumatics, Pumps & Plumbing\Compressed Air Treatment\Compressed Air Dryers". The seller is "upe_group" and is located in Kennesaw, Georgia.
This item can be shipped to United States.
REPLACEMENT FOR: PRD75 304-RNP75 CRPC75
Country/Region of Manufacture: Italy
MPN: ADS-75
Compressed Air Dryer Type: Refrigerated Dryer
Airflow Volume: 75 CFM @ 100 PSI
Maximum Pressure: 200 PSI MAX INPUT
Maximum Compressor Horsepower: 20 HP COMPRESSOR MAX
Brand: SCHULZ
California Prop 65 Warning: This product contains or may contain chemicals including lead known in the state of California to cause cancer, birth defects, or other reproductive harm. We suggest washing hands after handling. California law requires this warning be given to all customers in the state of California.