Train Air Horn Kit Three Separate Huge Trumpets, 12-Volt 150 PSI Compressor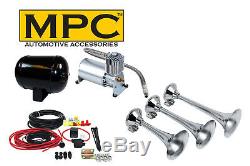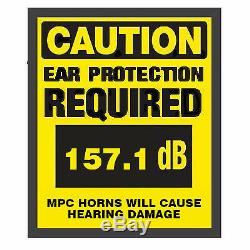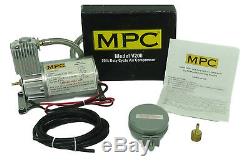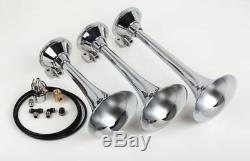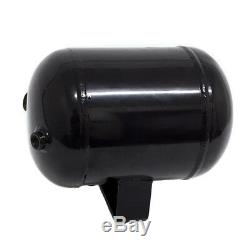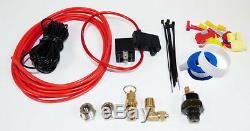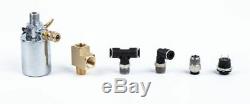 Air Horns & Air Systems. Train Air Horn Kit; Three Separate Huge Trumpets, 12-Volt 150 PSI Compressor. These horns have large metal diaphragms and sturdy metal trumpets that produce a clear, LOUD, train horn blast. We work tirelessly with our manufacturers to offer competitively priced air horns & air systems without cutting corners on quality.
We won't always be the cheapest, but we will get you the best blast for your buck! We provide free tech support for all the products we sell to ensure you have a great experience with our products and our company.
We're Air Horn Experts! We've seen other sellers come and go offering the cheapest product they can find, but that's not how we do business. The right products for your application.
Includes sealed compressor system - ideal for under-vehicle installation. Considering an air horn package with and "all-in-one" compressor system? If you want to mount the compressor underneath your vehicle, here's a better idea. This sealed compressor has 2 important advantages over the all-in-one compressor systems. All-in-one compressors must be mounted upright and flat.
Otherwise the oil that lubricates the piston will leak out, causing compressor failure. This sealed system is oil-less and can be mounted at any angle. Very important if you're considering mounting it on a frame rail. All-in-one compressors must be installed in a clean, dry location. Because the compressor assembly is not sealed, road grit, dust and water can seep inside and cause the compressor to fail. This sealed system is water and dust resistant. It also includes a remote air intake kit, which is used to route the compressor's air intake to a clean, dry location. (See diagram below) This prevents dirt and water from being drawn into the compressor's air intake and extends the life of the compressor. That's why this compressor kit is rated for under-vehicle installation. Triple Train Air Horns w/ 12v Electronic Air Solenoid. 150 psi Sealed Compressor w/remote intake. 1 Gallon Air Tank includes tank fitting pack w/ safety valve, compression air outlet fitting.
Get the sound of a real locomotive train horn on your own personal vehicle! The horn is all metal and has a sparkling chrome finish.
Sound output can reach 150+ db. This horn has extra wide bells for an authentic sound that will have people wondering where the railroad crossing is. Trumpet 1 Dimensions: 13"L x 6.25"W x 6.25H. Trumpet 1 Dimensions: 15"L x 6.25"W x 6.25H.
Trumpet 2 Dimensions: 17"L x 6.25"W x 6.25H. DB output: 153.7 db.
Construction: Chrome plated zinc alloy. A high-quality sealed compressor that never needs lubrication and will withstand the elements. 150 psi optimum working pressure. Compressor dimensions: 6.5" x 3.5" x 4.5.
Tank dimensions: 10.75" x 5.75" x 8. Includes braided steel leader hose with check valve. All The Other Stuff This is truly a complete kit.
Everything you need to use it comes in the box. Pressure switch - automatically turns the compressor on/off as air is needed in the tank. 120 psi on/150 psi off. Air tubing - 1/4 nylon DOT rated air tube. Made in USA, holds up to 250 psi. Horn button - An attractive flush mount pushbutton to activate the horn or use your factory horn button... Safety valve - Automatically releases pressure from the tank if it exceeds 175 psi. Brass air fittings - To connect the air tube from the tank to the horns. Includes installation instructions and FREE USA TECH SUPPORT! Here's Why Ours are Better.
There are two problems with undersized valves. They will not open under high pressure.
Many sellers advertise db ratings based on 150 psi output. The problem is that the undersized valves will not operate for extended periods of time (if at all) at 150 psi. They are designed for use at 110 psi or under. They limit the air flow to the horns. Undersized valves limit the air flow and will cause the horns to under-perform. Our valves are bigger, beefier and better. They will perform smoothly and reliably at pressures up to 160 psi and allow up to 25% greater air flow.
The bottom line: Our horns are louder and more reliable! Each actuator is QC tested before it leaves our facility. MyPushcart is not liable for any installation charges, loss or damage of any kind incurred in the replacement, repair of any warranted product.
A Return Authorization Number is required. We have a fulltime tech support staff available to assist you with any technical or installation questions. The item "Train Air Horn Kit Three Separate Huge Trumpets, 12-Volt 150 PSI Compressor" is in sale since Monday, July 15, 2013. This item is in the category "eBay Motors\Parts & Accessories\Car & Truck Parts\Interior\Steering Wheels & Horns". The seller is "mypushcart" and is located in Tucson, Arizona.
This item can be shipped to United States, Canada, Australia, Mexico, New Zealand, Bermuda.
Brand: MPC
Manufacturer Part Number: 0831
Warranty: Yes